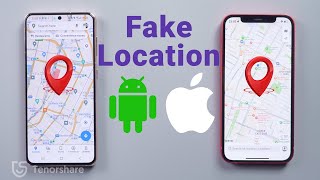 Welcome to Tenorshare Channel. Today, many Apps are with GPS location function on it. Sometimes, you may not want to track by your family, lover even friends. In this video, we will teach you how to fake GPS location on iPhone and android.
Fake GPS location on Android, Go to the google play store find the app called "Fake GPS Location" and download it. Then back to the desktop and find the settings in your mobile phone. Choose location and make sure it's turned on.
After that go back settings and find about phone, choose software information. Then find the bill number and tap it seven times because you need to open the developer option. Once opened, you will see developer options is here.
Press it and then find the selection call "select mock location app". Then choose fake GPS. You will see mock location is on. Then open fake GPS location. Now we can drag the map and go to the place you want to go.
This time I choose Tokyo. Once confirmed just tap the green button and now you are in Tokyo. Just go back maps, you will see that. Fake GPS location on iPhone, First, download and install iAnygo on your computer.
I have put the free download link on the description. Then you will see four functions here and this time we just choose the first function change location. Now we need to connect the iPhone with an USB cable.
Once connected you will see I'm in New York City now. We can type the place we want to go on the blank. For example I type Tokyo this time. Once confirmed, we press start to modify. Boom! You can see I'm now in Tokyo.
If you want to go back to the actual location, tap the right lower corner. Then your iPhone will restart and back to the true location. That's it. Subscribe us if it's help. Don't forget to share video with your friends.
See you in next video.