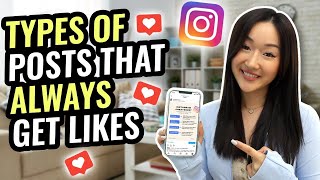 What's up everyone. If you're stuck on what to post on Instagram, that's going to give you more likes and engagement. This video is perfect for you. Hi, my name is Vanessa and this channel is all about helping you get visible using social media and get paid at using a business strategy.
In this video, I'm going to share with you my top three go-to content pieces that I always do in order to boost my engagement. So let's dive right into it. Now, the first type of posts that typically gets me more likes than usual are photos that show my face or glimpses of my personal life at the heart of it.
Instagram is an app that values, connection and community. And typically people feel like they can trust you more. If they actually know who's behind the account. And therefore showing a photo of you is going to build more engagement.
Now, only this, if your account is an account that also is kind of personal, meaning that you have friends, family, coworkers, people that you went to school with still following you. Well, these people, they don't necessarily need to know your business so long as they see a photo of you on their feed.
They are more likely to actually like that piece of content, because they know you versus if you post your regular business content, because they're not interested in your business, especially since they're just friends and family, they may not engage with those posts.
So that's typically why showing photos of yourself or glimpses of your personal life. Do you get more likes overall? However, there are still things that you want to consider. You don't necessarily want to post photos of just you all the time, because what ends up happening is your entire feed will end up being a gallery of you like this.
Now, of course, if your niche is within beauty, maybe you're in fashion. It's normal that your entire feed is of you. But if you're in other niches and you're just have photos of yourself, it might not make as much sense.
And it might not be what you want to present on your feet, because at the heart of it. And I mentioned it in this video right here, your feed from a bird's-eye view should already tell people what you provide.
And so, for example, if you look at my feed, yes, it has photos of me. Yes, it shows my face. But from a bird's eye point of view, you can already tell that I post business content that I talk about social media.
And so you do want to make sure you diversify your feed. Now moving onto the second type of post that typically gets more likes than usual. And that is motivational or inspirational content because who doesn't want to get motivated in their day to day.
Now, the funny thing is, is that as content creators, we spend so much time creating videos, carousel posts, all these things like this. But what I found at least on my account is something as simple as this, like a one-liner quote, post actually gets more likes and comments sometimes, actually most times now here's the reason why easy content pieces like this tend to do abnormally well it's because they are easy to digest.
Meaning someone doesn't have to go through a really thick carousel in order to get the information. And within one line, they get a dopamine hit because they're inspired. Now, they got the result, which is understanding what the post is actually about.
And so it's going to increase the likelihood of them liking it and even sharing it. How many of you see one post, maybe you don't scroll through it. Maybe you don't look at the caption, but that one post really spoke to you.
So you just shared it to your stories, to your audience. Well, the likelihood of that happening increases, the more simple the post actually is. And so that's my theory as to why these one-liner quote posts do so well more than other pieces of content.
Now the third type of posts that does get more likes than usual is educational content. Now, of course, this is educational content packaged in a way that's concise and easy for someone to get through.
Now, overall, my channel, I've talked a lot about how carousel posts like this are beneficial to your Instagram and sales strategy. And I stand by it doing Instagram, carousels, like this are really great for nurturing and for sales generation.
However, in this video we're talking purely from a likes standpoint, how can you get the most likes as possible? And what I find is actually putting all the tips in one slide and making it simple to read does tend to get more likes than packaging it up into eight carousel.
Now, obviously a carousel is still necessary if you are teaching quite a bit, but at the heart of it, if you want more likes, you want to make it easy for people to double tap. And so something like this where all five of my tips are packaged on one page, I do find does get a little bit more engagement.
And the reason why I'm also saying educational content is what's working is because people want to receive value. And not only this, the bonus of creating educational content, whether that's tips or lessons that you learned also increases the likelihood of people saving that piece of content and also potentially tagging their friends in the comment section, if they want other people to learn from your lessons as well.
Now, moving onto the next type of post that does get more likes. And that is Instagram reels. I have been harping about this for so long now, and this is something that might be unique to this day and age with the way that the platform is moving towards Instagram is prioritizing IgE reels.
And what I found is that every single time I post an Instagram reels, it does tend to get a lot of likes. Now I've mentioned in this video right here, this video right here, and probably this video right here, I do mention that Instagram reels has a longer shelf life, meaning that it's normal, that maybe within the first 48 hours, you might not get the amount of likes that you're used to, but I almost guarantee after two weeks, you usually see those likes actually increasing, especially because it hangs on the algorithm for a bit longer.
What I mean by this is if you look at your IgE reels, explore feed, you will find content pieces that weren't just from 48 hours ago. You will still be served content from maybe a week or two ago from certain creators.
And so that is why it is pretty strategic for you to actually leverage an Instagram real strategy in order to get more traffic and engagement. And so if you want to learn more about IgE real strategy, that I definitely recommend that you watch some of my other videos where I dive deeper about it.
Now, so far in this video, I shared some snappy ways on how to increase your likes just by the content that you're posting and maybe even by how you package it. However, we all know that there's more than just likes when it comes to social media success.
So definitely make sure you download this free guide that I have right here that really shares other tips that I have about Instagram. The link is in the description box and in the comment section below, not only this, make sure you hit the notification bell, because in my next video, I'm going to share all of my tips on how you can actually.
Being consistent on posting with Instagram, because it doesn't matter if you implement all these tips. If you're not even consistent with posting, you're going to see zero results. And so make sure you hit the notification bell.
So you don't miss next week's video. As always guys, I post content on social media, marketing and entrepreneurship, but while you wait for next week's video, make sure you check out these two videos that I have right here as well.
I promise they will not disappoint as always guys. I appreciate you. I hope you guys have a great day, a great week and a great life. And again, good luck with your Instagram game. See you later, guys.