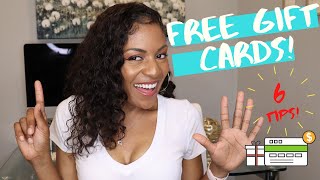 – What's up Divas and Divos? It's your girl Nikki, the Deal Finding Diva. Welcome back to my channel where I show you how to either make money or save money, and today we are gonna focus on making that money.
I'm gonna tell you six easy ways to get free gift cards. Yes, people, it is possible. And the reason why I want to tell you all how to get your own free gift cards is because I wanted to tear those of you that decide to jump in my DMs and ask me to just hand over my gift cards to you, as if I would ever do that.
So I wanted you all to know my six best ways to get gift cards easily and free. So before we jump into it, I wanna tell you all, thank you so much Divas and Divos, you all have been showing out and I've got so many more subscribers, and so much love, so many comments, and I am getting back to you all as quickly as possible.
So bear with me, a girl has been working on my new website. So be sure to head on over to dealfindingdiva.com and check out my new website because I did a total makeover, and I am not a genius at coding and I did it.
On that note, speaking of Divas and Divos, I want to share some love. Before we continue with this awesome video. I want to take some time and shout out the comment of the week Thank you so much for taking the time to comment, and I know some of you are wondering, "How can I be featured?" If you want to be featured it's so easy, all you have to do is either comment below or on another video that I post this week, or you can head on over to Instagram, don't forget to follow me, and comment on a video or share me on your IG story.
Don't forget to tag @dealfindingdiva. With that said, we're going to get into the video about how you can get your free gift cards right after this. (upbeat music) All right Divas and Divos, like I said, no more DMs about, "Can you give me a free gift card?" No, I can not! Let's get into the video of how you can get some free gift cards.
So the first way that I suggest you all to get free gift cards is by obviously Capterra. Yes, Capterra is one of my most viewed videos on my channel. I tell you all how to get free gift cards in that video.
Basically, Capterra is a way that you can get free gift cards by giving your opinion about computer programs. And these programs include programs that's pretty much all of us have used. Such as Photoshop, PayPal, Microsoft Word, PowerPoint.
So many programs. When you get your gift card, they send it to you via email, and you have a choice between a Visa gift card, Target gift card, Amazon, and some others. So you can get it instantly once you get that email.
Normally, it takes up to three weeks to get your gift card. Now, I must tell you all you are not guaranteed to get a gift card. So please stop inundating my comments with, "I didn't get a gift card." You are not guaranteed to get a gift card with Capterra, I made that disclaimer in my original video, and I am telling you now.
How long is it gonna take you to get your gift card? I can tell you normally two to three weeks. I've said this many times. I've said it in the video I've said it in the comments of my previous video, but people are still asking.
Normally, it takes about two to three weeks. If you have any questions about Capterra I suggest you check out the comments on that previous video because chances are your question was already answered.
But please, please note, I do not work for Capterra. I cannot answer but so many questions about Capterra, okay? I know I've gotten gift cards, it's not guaranteed, but I've gotten gift cards. I can tell you I've gotten a gift card for every review that I've written, and matter of fact, let me show you a screenshot of all the gift cards that I've gotten so far, and these are updated screenshots because I've gotten more gift cards since then.
I'm over a $100 so far in gift cards. Now, I do have to tell you I did get somebody the other day, she hit me up and she told me that she only got a $3 gift card. Like I said, my gift cards have been normally between $5 and $15, and you could do up to ten reviews a month normally.
But what I say to that is, first of all I don't know how much your gift card is gonna be, like, they will tell you that before you even do your review. So it's up to you whether or not you want to do the review, but I will say this.
Free is free. So… I have no problem getting a $3 gift card or a $15 gift card because if you do ten of those reviews in a month, you can still get $30 in a month. That's $30 and mind you, a review has never taken me more than five minutes.
So you can do ten of them in less than an hour. The average American does not make $30 an hour. So… this is a great hustle, but we got to move on to the others other than Capterra. Again, if you have any questions about Capterra check the comments on the previous video, and chances are you will find the answer to that, and if it's not there, chances are I can't answer it because I don't work for Capterra.
If you don't get a gift card, I have to tell you, chances are maybe your writing wasn't as good as you maybe thought it was, or for whatever reason, it didn't get approved. It has to be approved in order to get your gift card.
Now I've gotten plenty of responses from people that have gotten gift cards, but I will say this. Deal Finding Diva is a peaceful person. Don't go hating on people or hating on my video just because you didn't get a gift card, okay? So.
.. I will say, if you didn't get a gift card try one of these five other options. The next one, you're not going to find this like anywhere else, okay? This is Deal Finding Diva tea. My secret and best ways of getting free gift cards is from Amazon.
Yes. Here's the thing, It's not necessarily from Amazon themselves. If you purchase certain items from Amazon you can get free gift cards. And on that note, I'll be right back. Cause I want to show you all.
Alright, ya'll, I'm back. Okay. Now these are two items that I recently bought from Amazon that both gave me free gift cards. Let me say, this is not because I'm Deal Finding Diva is why I got these gift cards.
First of all, nobody cares that I'm Deal Finding Diva, okay? But these two items are both microphones, okay? So… this one is actually what I'm using right now. Okay? So… this is, um. What is it? Pixel Voc-? Voical? Voical Air.
Y'all gonna stop… Y'all gonna stop playing with me. All right, so Voical Air. Okay. Um, if you like the sound on my video now I'll actually link this product below. I know a lot of people do have questions about the items that I use for YouTube or items that I suggest.
Um, if you do have a YouTube channel , while I'm on that subject, or if you're planning on starting a YouTube channel, a lot of you are, let me know in the comments. First of all, you know drop me a, a camera emoji.
Okay? Wink, Wink. So that way I'll know that you're interested in the YouTube stuff. Cause I will do a video and let you know, some great products that can help you with a YouTube video. As well as on my website, I have a blog post about affordable YouTube equipment, okay? I don't want to run on too much about that stuff, but I just wanted to tell this is the item that I bought.
This is my current microphone, okay? I use this microphone in my last two videos. So I only use this for two videos. I'm like I'll figure I'll just keep both. I'm going to drop the links for both of these below, but let's get to the free gift card part of it.
Right? Cause that's what we're here for. Okay. So both of these items and why I'm going to link them down below specifically is because they both came with a gift card. Now I'm not guaranteeing that yours is going to come with a gift card.
Both of these technically came with a gift card, okay? Now this was actually better than a gift card because… they actually PayPal me the money. So I didn't even fill this one out yet, but, um, this one right here they PayPal'd me the money within 24 hours.
It was, $30 back. I got $30 back and I don't even remember how much I paid for it, but I think it was it was somewhere like around a hundred dollars. I'm sorry. Don't quote me on it, but I'm like spending on Amazon like crazy, but I got $30 back for this one.
And it brought the price down to the price of like this one before the gift card they have like different little scratch things or scan a QR code and see what your reward is going to be, that kind of stuff.
And then you just fill in like your order number from Amazon and they will literally send you the money. Now again, I cannot guarantee that you'll get free gift cards or money back for your purchases of these items or other ones, but what I'm noticing the pattern is microphones are having these in there, okay? I just wanted to put you all on to game that you can get free stuff inside your Amazon purchases.
So… stay alert for that stuff. Don't go throwing away business cards that come with your Amazon purchases. You got to read it because it might be free money. The third way that I have to get free gift cards is from something that I spoke about on this channel before and it is Fetch Rewards.
Yes. Fetch Rewards is a rewards program that will give you free gift cards for your store purchases. Okay? So… Yes, whenever I go shopping, I will scan the receipt and I've scanned receipts for 7-11, ShopRite, Target I mean so many.
So you just scan the receipt. It's like a really smart system. It's an app, okay? It's an app that's really smart. You don't have to go marking anything or, you know, like um, who is it? Ibotta will have you like mark your items first before you can scan them.
Or, um, you know, some other ones. Saving Star, all of them. You have to like load them in before you do it. No. Fetch Rewards is like a really, really smart app and you just take pictures of your receipt and you will get points.
Those points will add up and you will get free gift cards. So again, I've spoken about Fetch Rewards in a previous video and I will tag that up there. All right, so, if you want to see that. Now again, all you have to do do your regular shopping and you're getting gift cards, okay? So I've gotten gift cards to Amazon and Dunkin Donuts.
Off hand those are the ones that I remember and I think if I remember right you get 2000 points when you sign up using my link. That's $2 instantly, without you even doing anything, okay? Literally, just open your free account.
All right, so… while we're on the Fetch Rewards subject. Similar to Fetch Rewards is ShopKick. Now ShopKick you don't have to make a purchase, not one purchase, okay? This app, it makes it fun to get free gift cards.
It's especially really good if you have a lot of time on your hands or if you have kids and you want to keep them busy while you're in the store or in the mall, whatever. So basically the way that ShopKick works is just for walking into a store you can get points These points, they add up to free gift cards.
So… I've gotten gift cards for Target and Amazon. That's all I remember off hand, but I've gotten free gift cards from them in the past and it definitely, definitely works. So here's the thing, you don't really even have to walk into the store like, you have to have your Bluetooth on on your phone and the app open and chances are before you even walk into the store your app will ping and you get free points.
And I've, again, I've spoken about this in a previous video and it's a fun way to earn free gift cards. Also, they have other ways that you can earn free gift cards as well. And one of the other ways is basically by doing a scavenger hunt in the store.
So one of my favorite stores to do this in is Target because Target is one of the stores that had an abundance of items that you can find. They'll tell you which items they are in the app and you can find them and scan the item, scan the barcode in your app and get free points that way.
And if you're a parent this is a great way to keep your kids busy. And literally, since my daughter was like, I think like six? Six? She's nine now, I think she was probably like six when I, when I joined them, but I would give her my phone and tell her find these items in the aisle while I'm shopping, and that's what she would do.
She would scan the stuff and get me free gift cards. And once you earn enough points to get the gift card, you get that gift card right on the spot, okay? Yeah, so there's been times where I've been in Target and earned myself a free Target gift card.
And it was funny, one time I was in the store and there was a woman and she heard my app ping and she knew exactly what it was because she was in the aisle looking for the same item. And we had some exchanging information and we both got an abundance of points.
And I remember that day, I did get a free gift card as well. So yes, you can meet new people and get free stuff. And another way that you can earn points is from your actual purchase. So if you purchase certain items you will get even more points for your purchase.
Again, ShopKick is free. If you sign up using my link below, within seven days if you go to the store by either walking in or scanning an item, they will give you bonus points. So you will get 250 bonus points if you scan an item within seven days of signing up for the app.
So make sure you use my link and head on over and get your ShopKick app, okay? Okay, so tip number five on how to get a free gift card. This one is a good one, okay? If you're a Verizon customer the way to get a free gift card through Verizon is by signing up for Verizon Up.
Yes. Verizon Up is Verizon's reward program for when you pay your Verizon wireless bill. So yes, you can get a free gift card and they will give you points as rewards for paying your bill. You can get a free gift card and sometimes they'll have other free stuff.
Like, I mentioned this in a video last year I had took my mom to a wine tasting event. The tickets were $75 a piece. I got both of them absolutely for free because Verizon Up actually will have like super tickets to like concerts and events, and they give those away for free.
You just have to be at your app and ready to hit a button to try to get your chance to get it, and I did get $150 worth of wine tasting tickets for doing that, but with Verizon Up, again, who can also earn gift cards.
And plus sometimes they'll throw in a bonus, especially around the holidays. They did, like, I think it was around Christmas. They gave an abundance of gift cards. They gave out a free gift to their customers every single day.
Every day you were getting a free gift card that was like $5. There was an Amazon gift card. There was a Visa gift card. All kinds of gift cards. Every day, there was a gift card. So that was just for being a Verizon customer.
That's free money that you did not have to spend, okay? So yes, if you're a Verizon customer sign up for Verizon Up. The way that you find that is by going into your Verizon wireless app and signing up for Verizon Up in there, okay? So moving on, tip number six to get free gift cards is by signing up for emails.
How many times do I have to tell you Divas and Divos to sign up for emails from companies that you like? I always tell you Divas and Divos make sure you sign up for a junk email account. So I have a specific Gmail account that is dedicated to getting coupons and discounts, okay? So whenever I go to a company's website and they have the bar in there, you know, enter your email, and you can get free stuff or birthday stuff, all that stuff.
I will put my junk email address in there so my regular email is not inundated. A lot of these companies will send you free gift cards to their company. Sometimes they'll send you gift cards or store credit for your birthday, or sometimes they'll just do it randomly and companies that are really good for this include Finish Line, Kohl's, CVS, and Staples.
Now there are many more, but those are the ones that I can think of off hand. But yes, sign up for emails from your favorite companies and get your free gift cards. So this video went much longer than I expected it to and I'm going to start to wrap it up, but if you liked these tips and in the future want more tips on how you could get free stuff then make sure you hit that thumbs up button and share this video.
As well as make sure you subscribe to Deal Finding Diva because I have a lot more to tell you all of how you can either make money or save money. So with that said, I'm going to wrap it up. Again, thanks for the love and I will see you all in the next video.
(upbeat music)